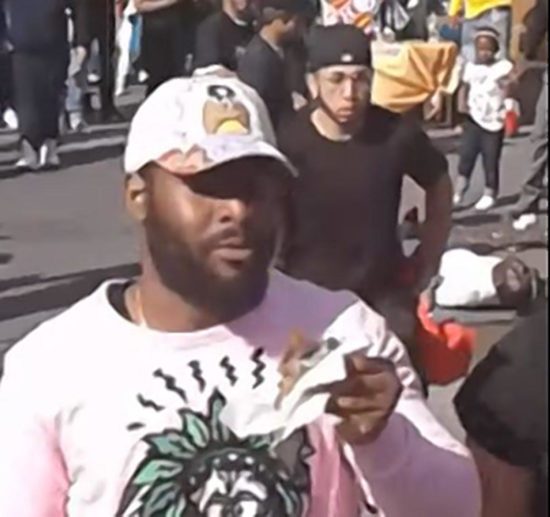 A street vendor trying to earn a living by selling his wares in the Hub is fighting for his life after he was brutally beaten on May 2.
As 53-year-old vendor Souleymane Porgo sat alongside family and friends on the afternoon of May 3, a thief approached and tried to steal a purse from his makeshift table at 149th Street and Third Avenue. According to the NYPD, Porgo and his brother warded off the thief, who later returned with a group of men.
Video footage taken at the scene shows a group of men approaching Porgo later that Wednesday afternoon. One man punches Porgo in the face, causing him to fall straight back onto the sidewalk. As Porgo lies on the sidewalk, seemingly unconscious, other men from the group can be seen punching him in the head. One punches the prone Porgo and heads off, biting into a snack as he crossed 149th Street heading south.
At press time, Porgo was on life support in Lincoln Hospital. The NYPD had not made any arrests.
The Third Avenue Business Improvement District released a statement the following day, condemning the assault. The release stated that the BID is "stepping up security patrols in the area and will be working closely with NYPD to address security concerns along the Avenue including but not limited to vendor issues, drug sales, loitering, and homelessness."
In addition, it urges Mayor Bill de Blasio, the Department of Consumer Affairs, the Department of Health and the Department of Homeless Services "to create a city-wide strategy to address the aforementioned issues," and urged the city council to "pass the vendor legislation endorsed by the New York City BID Association which seeks to study and empower vendors throughout the five boroughs in order to achieve an optimal environment for vendor capacity building and economic development."
City Councilman Rafael Salamanca tweeted that "Following the brutal assault of one of our vendors in the @HUB3rdAvenueBID, I've asked @NYPDONeill for more resources for the @NYPD40Pct."