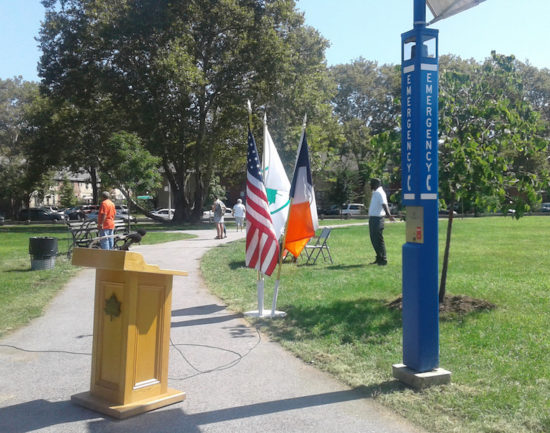 For decades after she immigrated to New York City from Jamaica nearly 50 years ago, Dena Foreman rarely ventured very far into Soundview Park, even though she's lived in the South Bronx for decades.
"It was never really kept like it is now," she said, pointing to a grassy mound near an entrance near the corner of Story and Metcalf Avenues. "I was always afraid I would pass by and look at that high lump over there and I said 'oh my God, I wonder what's buried underneath."
Foreman, 70, a retired banker, walks through the park more often now. After several years of city revitalization efforts, the park seems to have turned a corner, culminating most recently in the installation of 40 blue light "help points." The New York City Parks Department is installing the points in Soundview Park and three other area green spaces: Starlight Park, Concrete Plant Park and Pugsley Creek Park.
The approximately 10-foot high blue posts are equipped with technology allowing citizens to easily communicate with emergency responders. The responders would know the exact location of the distress call.
Councilwoman Annabel Palma, who represents Castle Hill, appropriated the initial $400,000 from her allocation of Capital Grant Money for the project. The project also includes the installation of night cameras to monitor for any suspicious activity, as well as additional lighting.
Bronx Borough President Ruben Diaz, Jr. welcomed the new infrastructure at Soundview Park, which he noted had a reputation as a more barren, garbage-ridden and even dangerous public place.
"Cars were dumped back here. Cars were burned back here," Diaz, Jr. said, amid a lush backdrop of trees, sidewalks and baseball fields in the 205-acre park, which stretches toward the East River.
"You just did not go back there, certainly when I was a teenager and even when I started being an elected official 21 years ago," said Diaz, who said the park has undergone an extensive redesign over the last decade.
Diaz, who happens to live across the street from Soundview Park, was on hand with other representatives, including State Assemblyman Marcos Crespo, Councilman Rafael Salamanca and State Senator Jeffrey Klein, who have pledged to fund other phases of the pilot. Those phases include the installing to air, light and sound pollution monitors.
Crespo said the initiative's purpose is to improve safety, noting that the borough has traditionally been known for high crime rates.
"We've actually turned that around," he said. "But we have had key incidents."
Those include the 2015 daytime killing of Christian Negron, a former La Guardia Community College student, in Pugsley Creek Park. Crespo also points to the 2014 drowning deaths of 13-year-olds Erickson Villa and Wellington Gavin in the Bronx River alongside Starlight Park. While emergency officials were notified during the incidents, they weren't able to pinpoint the victims' exact locations, delaying response times.
The strategic positioning of the help points within the parks can hopefully improve response times in the future, Crespo said.
"Clearly we're not expecting a utopia. We never have," he said. "We'll never be free of any crime potentially happening."
About Post Author