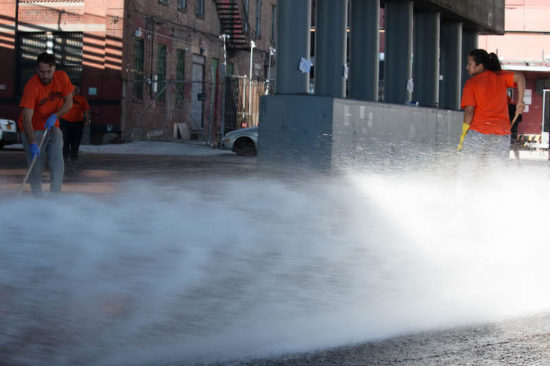 As the sun warmed up the blacktop on the morning of Oct. 21, Cherynne Montanero grabbed a broom and began sweeping some discarded condom wrappers and used syringes under the Bronx side of the Third Avenue Bridge. Dressed in an orange t-shirt with "Rocking the Bridge" emblazoned in black, Montanero participated in the second cleanup that the movement has organized in the past month.
After years of neglect, the bridge is getting a thorough cleaning. When BLOX Creative Producer, Marco Shalma and Third Avenue Business Improvement District Executive Director, Michael Brady met a year ago, they committed to cleaning up the bridge. More than just a series of one-off acts, the movement aims to set up community programs, including sex worker health and human services, homelessness programs, substance abuse counseling, and artistic equity. Partnering with other community businesses and organizations, "Rocking the Bridge" is cleaning up what the city is not.
"In four hours, we found 25 condoms and umpteen needles, I think the city needs to step up," Brady said.
Shalma has called the Department of Transportation (DOT) repeatedly asking for help with the cleanup. Each time the agency sent him to 311 in what he describes as a "purgatory of bureaucracy." It is discouraging to walk by the stacks of needles, condoms and piles of human feces every day, he said. When his tweets to Mayor Bill de Blasio and Gov. Andrew Cuomo went unanswered, Shalma decided to do something himself.
According to a DOT spokesperson, "cleanup involving contaminated waste, as there appears to be on the Third Avenue Bridge, requires our staff to follow special health and safety protocols to handle, as well as coordination with other city agencies.  Hazardous waste was removed from this bridge this past week."
Hunts Point activist, Audrey de Jesus said that that if the community does not get involved, it would be a lot worse.
"The city has its hand in everything so small projects like this get overlooked," she said.
Mott Haven Bar & Grill owner, Rosa Garcia thinks the area under the bridge is at 70% of where it should be. Up until a few months ago, the 36-year-old mother of two used to be afraid of walking the length of the under-bridge area before the "Rocking the Bridge" movement started addressing the bad conditions. In addition to more police officers patrolling the area, she thinks more lighting would serve as a deterrent to people engaging in sexual behavior.
In between sweeping the urine smell from the pavement, 27-year-old Montanero expressed her love for the Bronx. For years, she and her friends have been trying to get people more involved in the area but because it looks so run-down, it has been a challenge. She said she sees progress in this kind of cleanup action though, and hopes it will encourage more outsiders to visit the Bronx.
"What is taking you so long to love it?" she said.
About Post Author