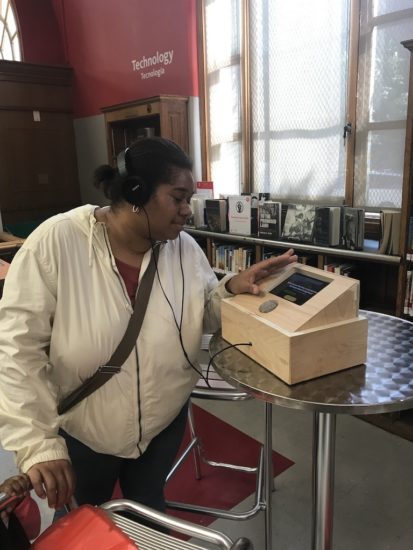 New technology captures diverse neighborhood voices
A young librarian says Mott Haven is the Bronx's last neighborhood with true grit and authenticity. She loves the bright murals that color the area, and hearing conversations in Spanish when she comes up from the subway. An entrepreneur who enjoys walking past hundreds of kids heading to school each morning worries about finding an affordable place to live in the neighborhood, as rents continue to rise. A mother says she is eager to find healthier eating options for her children than those she usually has to settle for at local bodegas and supermarkets.
Herald staff spent a week at the Mott Haven Branch Library in May, asking people two questions: 'What do you like best, and what do you like least about living here?' We put that question to more than 40 people who participated in The Listening Box project, an initiative that The Herald has undertaken with the Massachusetts Institute of Technology (MIT), to get a sense of what's on the minds of people in the neighborhood we have been serving for the last 10 years. Their answers were recorded on a device that MIT technicians created for this purpose.
Here's how it works: The Herald brings the Listening Box—a wooden box with a sophisticated tape recorder inside— to events and meetings so that we can record whatever stories you and your neighbors are willing to share. We then post them on our website and hope to raise some of them in a series of events we are planning later this year, if those who record their voices allow us to.
Projects like this one take time.
"It has to be consistent and transparent," said Monxo Lopez, a longtime Mott Haven resident and community organizer with grassroots group South Bronx Unite. "The community has to have access to the data."
We agree. We're eager to share interesting stories and useful ideas with the neighborhood.
What would you like to hear from your neighbors? What stories do you have to share?
We'll be at the H.E.Arts Festival on 140 street between Alexander and Willis on June 30 starting at noon. Come share your stories and opinions about your neighborhood, and take a listen to recordings of your friends and neighbors that have been made so far.