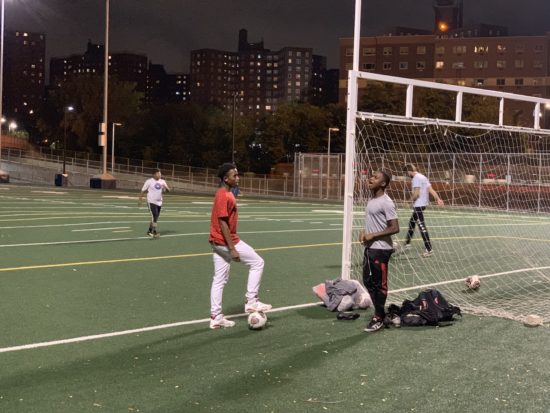 Alhanssane Jallow waits on an empty soccer field behind the Mott Haven Educational Campus for the rest of South Bronx United's newly formed senior team to arrive and begin evening practice.
Jallow, who is 19, paces around the empty field at 730 Concourse Village West, and shares stories about lessons he has learned  from his teammates in the short time since the new team was created in August. 
"Playing with them helps me improve my skills and my maturity in playing soccer," said Jallow, who has been playing the sport for two years.
The senior team has a unique make up. It is comprised of alumni and current high school students who have aged out of the youth leagues. Currently there are five high school seniors competing on the team alongside alumni in the city's Cosmopolitan Soccer League.
The team receives much of its funding from a men's club called Sporting SC. South Bronx United (SBU) makes up for any shortfalls from its own financing.
"We created this team, which is an opportunity for our alumni players plus the guys who are still in school to play and still come to tutoring," said Andy Jenkins, who has coached the senior team for about a year. Jenkins played soccer growing up in Northern Ireland, but felt coaching was a more feasible career path. He migrated to the US five years ago after coaching a team in Ireland, and relocated from Boston to New York City with his wife two years ago. 
A high school senior on the team, Ousmane Konate, 18, says that the team offers him a unique opportunity to stay active and showcase his abilities.
"I was aged out for the other team so I decided to play here," said Konate, 18. Being apart of the senior team has given him motivation. "Colleges can watch me play and stuff like that."
Mott Haven native Freddy Flores, 19, says that being on the team has prepared him for a future beyond youth soccer. Flores joined the youth team seven years ago and credits the guidance he's received in the program through tutoring and mentoring with his choice to attend LaGuardia Community College for Criminal Justice, where he will start in January. 
"If SBU wasn't here I don't know what college I would have been going to," said Flores.
A sense of camaraderie is evident as players begin trickling onto the field and practice begins.
"Wednesdays we have the full field [at Mott Haven Educational Center] which is awesome, but we have at least half of our guys working Wednesday nights," said Jenkins. "But Thursdays we use Macombs Dam field beside Yankee Stadium and we get about 20 to 25 guys coming out."
Combining education with recreation has been an ongoing theme since the team's creation in 2009. It has so far served 1,100 young people, many of them immigrants.
In the six years prior to the creation of the senior team, summer leagues headed up by co-coach George Nantwi have been a staple.
"We do summer league for alumni of the program when they come back from college," said Andrew So, SBU's executive director. "Soccer is often what brings them back to the program. Some have come back to volunteer and join our staff."
About Post Author