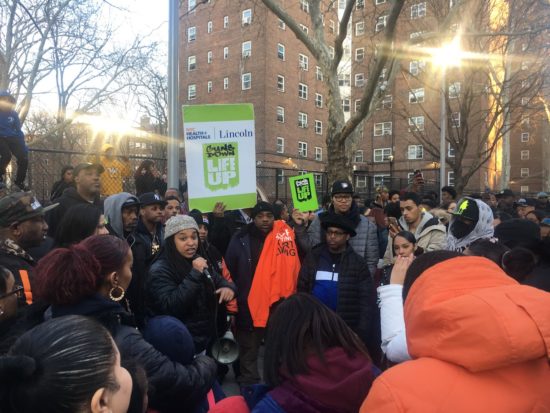 Mott Haven residents held a community vigil in front Patterson Houses on March 26, for a 16-year-old boy who was shot in the head a week earlier after dropping off his younger sister home from school.
Ocean Conway was shot near the basketball court between 300-314 East 143rd Street on March 21 and remains hospitalized in critical condition.
No arrests have been made. 
The teen was well known in the community. It was unclear whether the shooting was intentional or if Conway was an innocent bystander.
"We have to talk to our youth and teach them a better way," said Rumble, a violence interruptor at Gangstas Making Astronomical Community Changes Inc. (G-MACC Inc.) 
A number of groups helped organize the vigil, including Guns Down Life Up Initiatives at Lincoln Hospital, S.O.S Save Our Streets, Release the Grip at Bronx Connect, G-MACC Inc., Center for Court Innovation, SAVE East Harlem – GOSO (Getting Out Staying Out) and Street Corner Resources. The groups joined together in a chant of "Stop Shooting, Start Living."
Clarisa Alayeto, Community Engagement Coordinator at the Mayor's Action Plan, an initiative to reduce crime in NYCHA developments, objected to police presence from the 40th Precinct and PSA-7 at the rally.
"We can't even gather at a peace rally without police presence," said Alayeto. "Our community needs compassion. I want everyone to go home tonight and think about how can they make an impact for change."
A Patterson Houses resident named James, who declined to give his surname, had a suggestion for families. 
"If your child is in despair, don't be afraid to ask for help," he said. "We need to save ourselves. How can I help you put that gun down?"
About Post Author